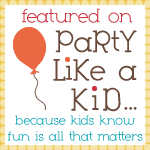 We had a great time putting together Amery's 2
nd
birthday party this year! We had an even better time throwing the party for Amery and all of our family and friends. I thought I'd put together a post of pictures from the big day, as well as some info about the theme, invitations, food, and favors. I found a lot of inspiration on various blogs and websites, so hopefully this will inspire others.
That's our little (big!) man on his big day.
The Theme

He's really into planes, trains, and automobiles of every size, shape, and color right now, so I knew I wanted a theme along those lines. I was lucky enough to
win a contest
for some gorgeous birthday
invitations
from Spearmint Baby that definitely would have been outside our budget otherwise. The train theme seemed much more common, so I settled on airplanes.
This image really doesn't do them justice. They are printed on really nice, heavy paper with rounded corners (optional at no extra charge). I highly recommend
Papeterie
Baby if you've got a healthy invitation budget.
The Food
We kept it simple this time around. The menu included: pesto pasta salad, fruit salad, hummus with pitas and veggies, crackers and cheese, lemonade, sodas, and cake.
The cake was from HEB and was delicious. It was vanilla cake with fresh strawberry filling and covered in their elite icing (think whipped cream goodness). The candle holders were a great little purchase - only $3.50 for four of them at All in One Bakeshop in Austin. I have seen them in many places online for a similar price if you don't live in Austin. I love how the writing on the cake ended up looking like cloud writing.
The Decor
This fabulous banner was made by my sweet friend, Kimberly, of
3 Monkeys Designs
. Not only is she super talented, she does all of this while taking care of a 2-year-old and twin 1-year-
olds
. You can check out her
Etsy
store
here
.
I love extending the theme into unexpected places. These
DIY
napkin rings were so simple and cheap! A color printer, an inexpensive pack of plain
cardstock
, and
this template
pasted into Word and you've got yourself some cute napkin rings with whatever theme you've chosen.
I chose to focus more of the budget on favors rather than go overboard with decor around the house. We had some leftover gliders from the favor bags that we put together and hung above the dining room table with fishing line so they would look like they were flying.
We hung these
DIY
clouds made from quilting batting along side the planes. I can't take credit for this idea. I was inspired by a post on
Ohdeeoh
, which is a ridiculously awesome site for creative and inexpensive ideas for kids if you haven't been there already.
The Favors

I love giving out party favors. If I could , I would have favors sitting around just for when people come to visit my house. Even if there's no party happening. It's so fun to hand someone a little thank-you gift on the way out the door that makes them feel, well, thanked.
Each had a
DIY
reusable luggage tag on the outside that also served as the name tag for each child. The tags are very easy. I picked up some inexpensive badge holders from an office supply store. The back side of each
tag
is a rectangle cut from some airplane-themed scrapbook paper I purchased at Tuesday Morning for $1.00. I printed the front side on
cardstock
at home with lines for name, address, and phone. I decided not to carry the name logo through to the luggage tag since the kids would likely use them for years to come as they travel.
I wasn't exactly sure what kind of bag I wanted for the favors other than I wanted it to be cheap. Enter Dollar Tree. I think I got a package of 50 pages for a buck. Bonus points that they were made out of mostly recycled paper. I finished them off with a
DIY
bag topper that matched the theme of the favors inside. Bag toppers are my new favorite craft. Seriously, you can make ANY packaging look good with a rectangle a
smidge
wider than the bag itself, and double the size you want it to end up in the folded direction. I drew a rectangle in Word, figured out the middle point where it would be folded, made sure the design fit below that line, and then you just print, cut, fold, and staple.
I would like to point out that the bags unintentionally came out looking like airsick bags from a plane
seatback
by the time I was done with them. That's either witty or gross depending on your sense of humor.
Each bag contained a balsa wood glider, a snack-sized Ziploc bag filled with Honey Nut Cheerios snack mix, a pair of children's aviator sunglasses, and a few coloring pages with outlines of different airplanes I printed myself. If you click on the photo you can see the bag toppers a bit closer up.
When I started thinking about favors, I was focused on one particular item - balsa wood gliders. There's something nostalgic and simple about them. I searched high and low for inexpensive gliders online. I found plastic versions, foam versions, and wood versions that were well over $2.50 each. I really wanted to stick to less than a dollar per glider in order to stretch the budget. Thank goodness for a great group of ladies I know from a local mom's board. The fabulous Gloria found me some plain wood gliders for a great price
here
.
I was originally trying to find plastic pilot wings to give to each child, but it turns out these things are nearly impossible to find since 9/11. I get that. In the process I came across the sunglasses. A million Google searches for "kids pilot sunglasses" later, I found the cheapest price
here
after comparing the cost of the item plus shipping at a dozen other sites.
The snack mix is my new addiction, and since it is relatively healthy I figured it would make a good little snack to send home with the kids. I printed the "Keep Busy Book" coloring pages from
this website
.
We set the favors up on our fold-out buffet with a sign that read "Amery Airlines Baggage Claim." The little red and white airplanes were part of another Dollar Tree find. You can get lots of cute little decorations like this in the teacher/classroom area of the store. I think there were about 5 each of the red planes, white planes, and some boat shapes in the package.
Here are a bunch more great pictures taken that day by a dear friend whom we can't thank enough. She knows who she is.
Picture collage on the food table.
Blowing out the candles.
He's either: a) freaked out that a bunch of people just sang to him at the top of their lungs, b) concerned that the cake is so far away, or c) a little of both.
Ah-ma
and
Ah-pa
(Grandma and Grandpa) visited from Minnesota!
Cousin cuteness.